Anti-Police Bias in Schools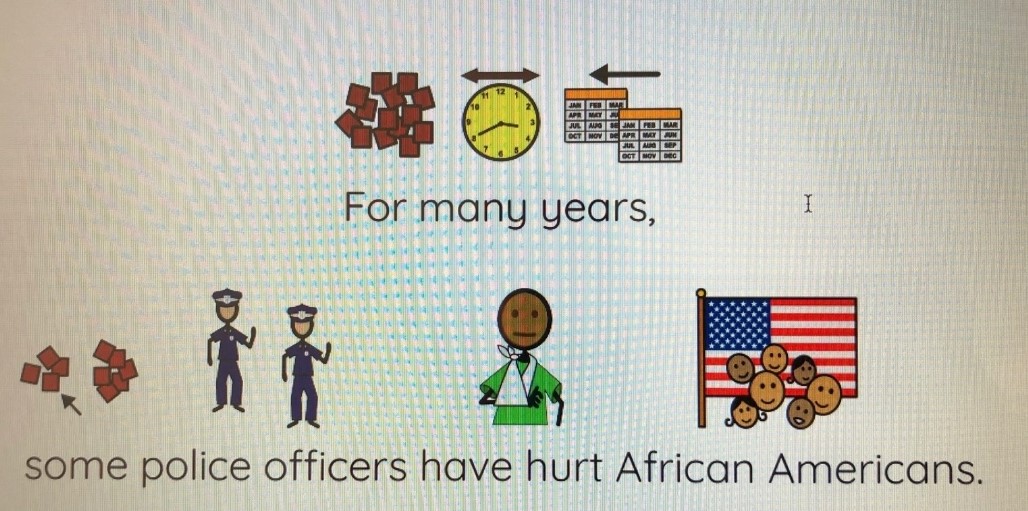 This slide was intended to be shown as part of the curriculum for grammar school students in Suffolk County, It was pulled after parents and educators voiced their objections.
Anti-Police Bias in our Schools
Schools are increasingly incorporating anti-police materials into their curriculums. This occurs with children as young as grammar school. Instead of teaching children to trust and comply with lawful orders from the police, children are subjected to a narrative of the police being harmful and racist. This false and dangerous pedagogy must end before it does serious and lasting harm to our youth.
Read below to see examples of anti-police bias in our schools and learn how you can stop it.

Stony Brook Professor Calls Hero Cops Murderers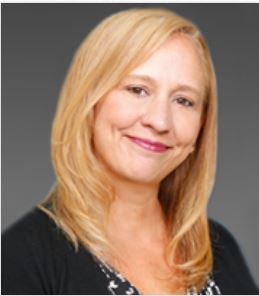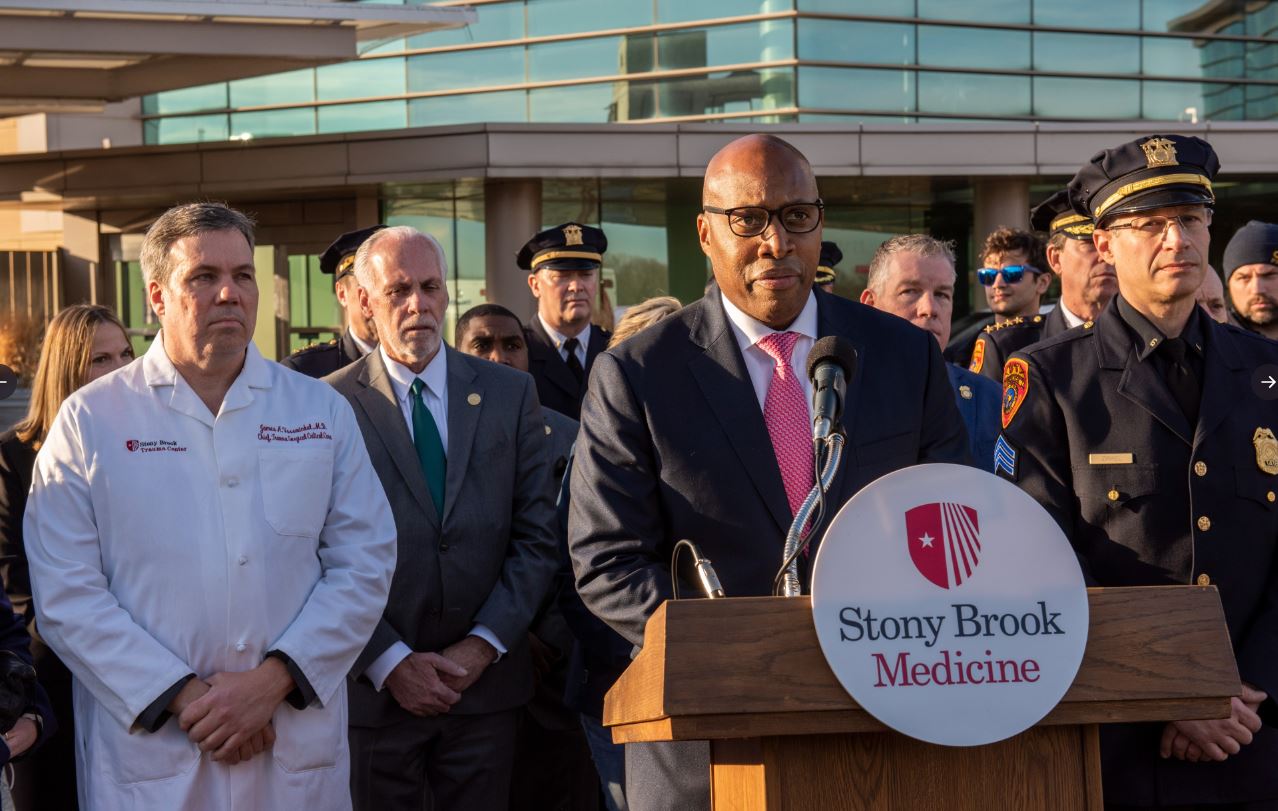 While a Suffolk County Police Officer fights for his life after being stabbed in the neck, an anti-police Professor slanderously referred to him and his partner as murderers.

Stony Brook University Professor Dr. Anna Hayward displayed a stunning level of ignorance when she callously commented on Stony Brook's official page condemning the actions of these hero cops who stopped an armed criminal and saved others from harm.

A quick glance at Dr. Hayward's Twitter account reveals numerous anti-law enforcement posts, including calls to "defund the police".

Stony Brook University must denounce Dr. Hayward's hateful comments and should put an end to the harmful anti-police bias in their program.

Stony Brook University Medical Center's outstanding care performed a miracle in saving these Police Officers' lives. It's shameful that Dr. Hayward would sully the reputation of the entire Stony Brook community with her anti-police rhetoric.

https://nypost.com/2023/01/02/stony-brook-prof-anna-hayward-blames-stabbed-cops-for-murder-of-their-attacker/
Dr. Haywards Anti Police Tweets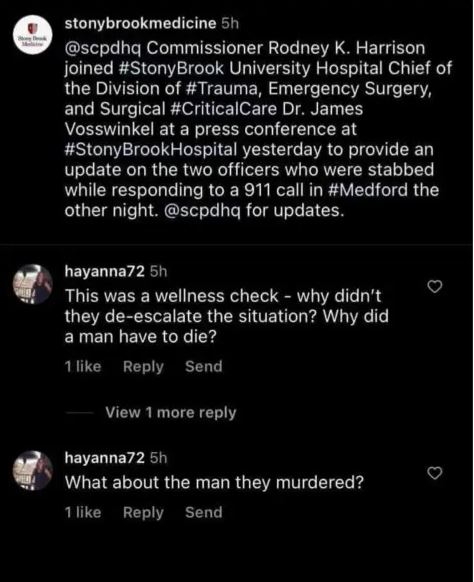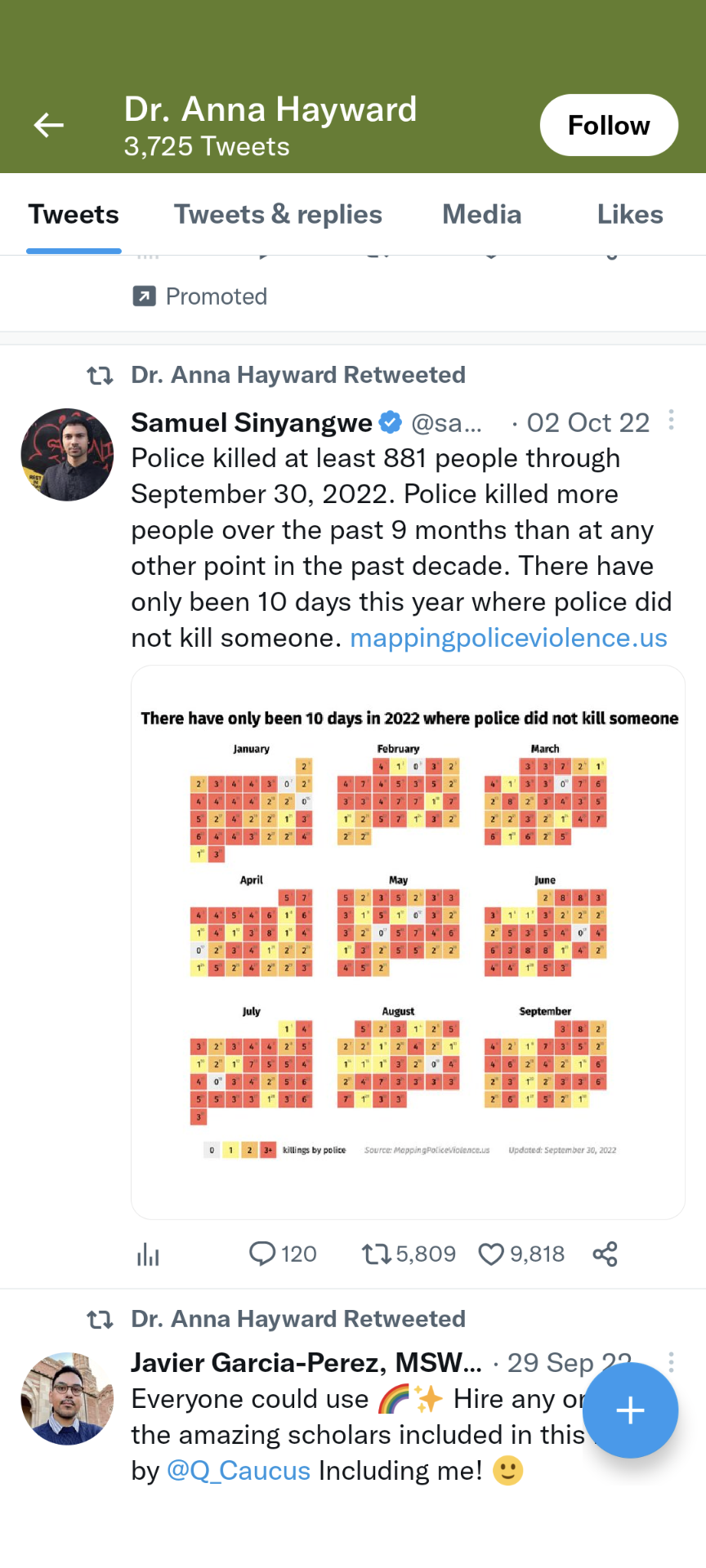 ---
Suny Brockport Invites Cop Killer Anthony Bottom To Speak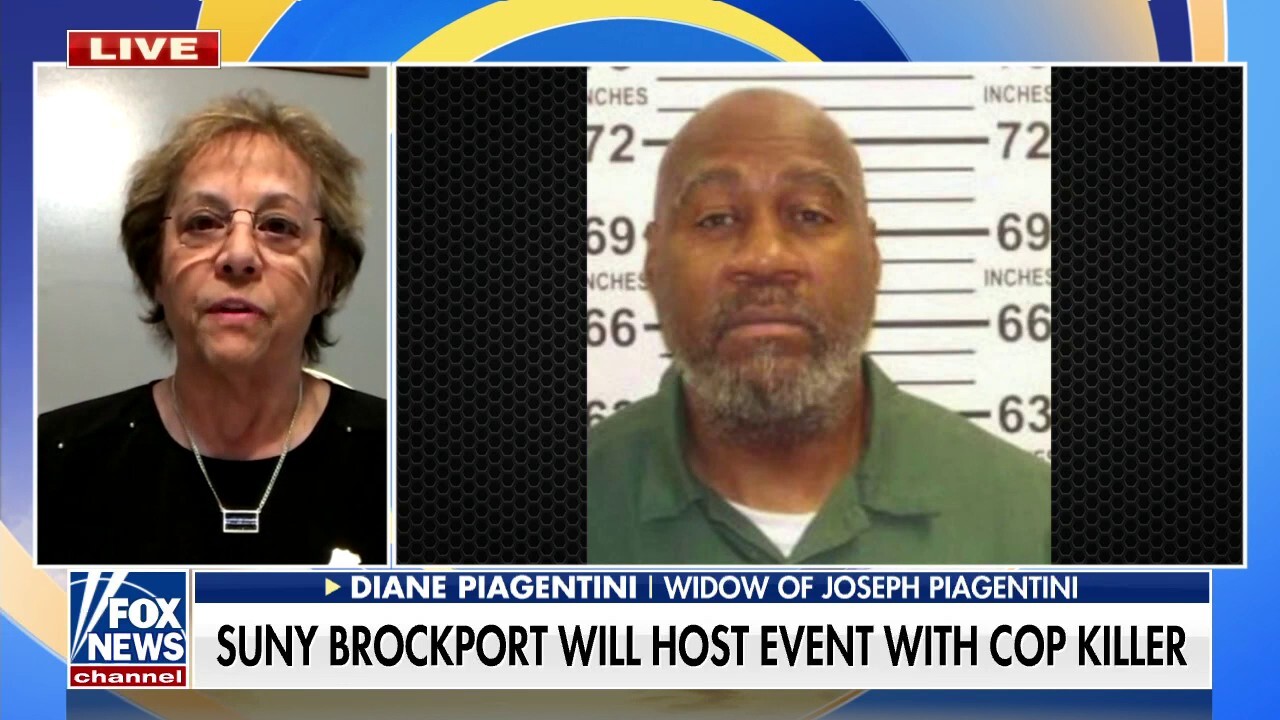 Anti-Police Bias is so rampant in our school system that Suny Brockport has invited cold-blooded assassin Anthony Bottom to speak to college students referring to him as a "political prisoner".
Click the link below to listen to PBA 2nd Vice President Lou Civello's discussion with LI News Radio's own Tom Schiliro Suny Brockport's vile decision to honor cop killer Anthony Bottom with a speaking role at a college event.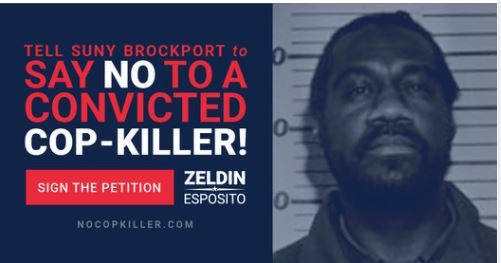 Read the letter below from PCNY President Richard Wells asking Suny President Heidi McPherson to cancel cop killer Anthony Bottom's speaking event at Suny Brockport.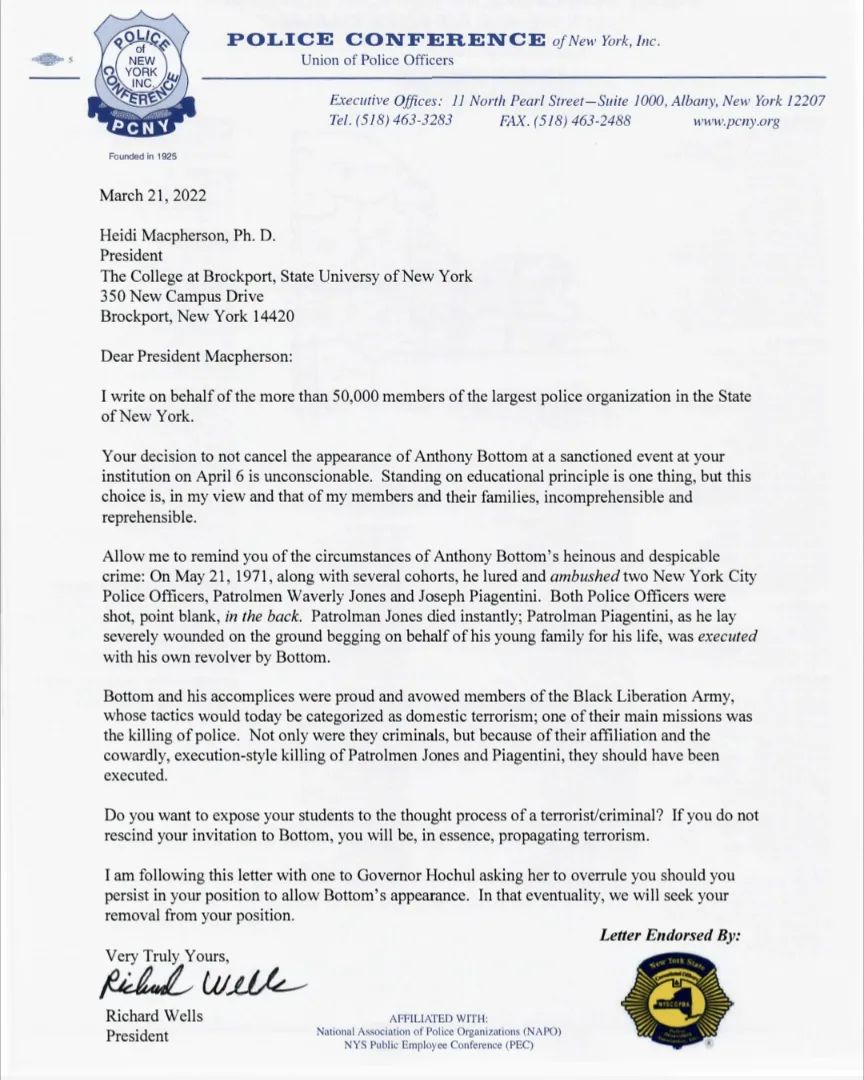 Letter from Suny Brockport stating students may be "traumatized" by having police on campus.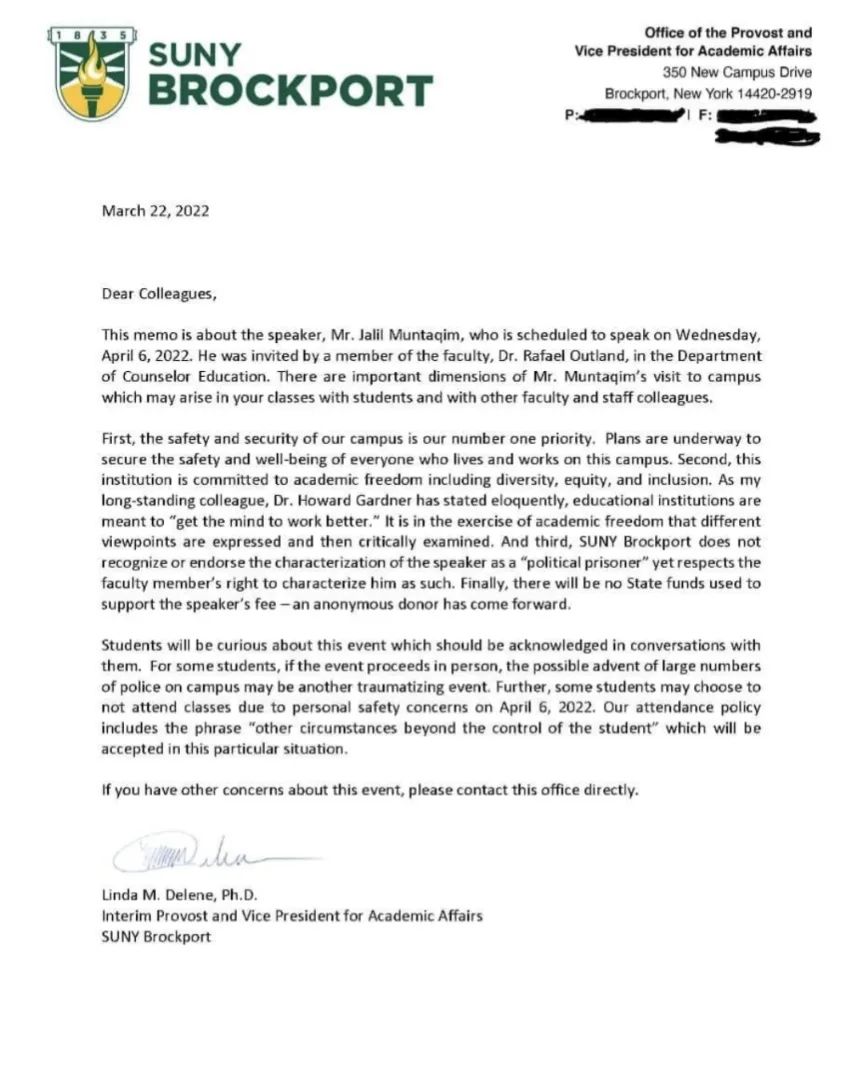 Read the letter below, to see how anti-police bias is being injected into our schools and why, for the first time, the Suffolk County PBA has endorsed candidates for a school board race.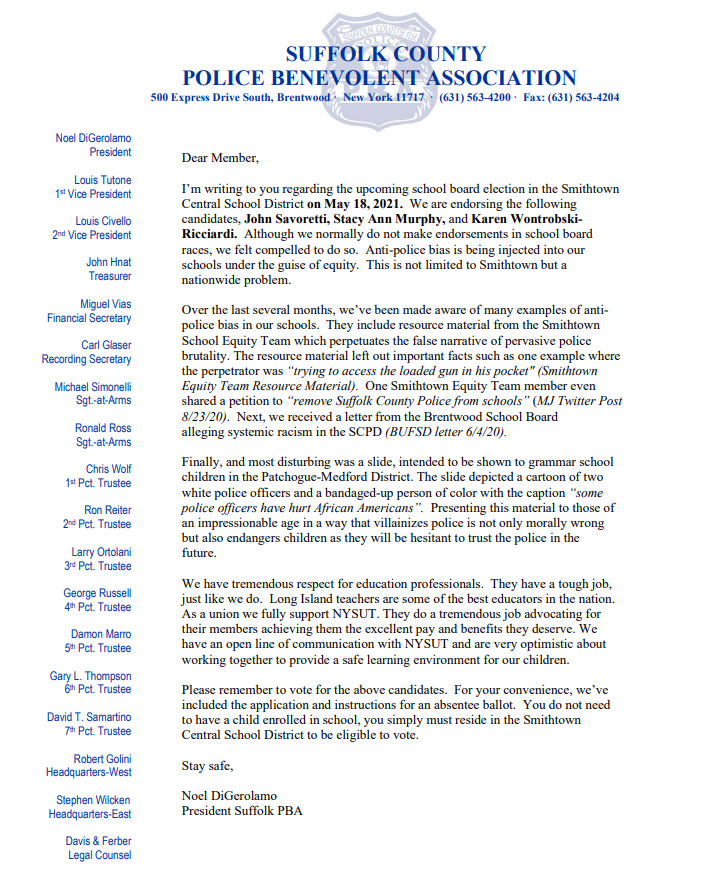 ---
Smithtown Equity Team Twists Facts to Malign Police
The following was included in resource material and suggested reading for the Smithtown Central School District Equity Team. It addresses talking about "Police Violence" to children. This loaded term is often used to describe instances where police officers are justifiably defending their own lives and the lives of others. The two cases the material highlights are exactly that. In order to askew the facts, the material leaves out important details. In the case of Alton Sterling, he was "reaching for the loaded handgun in his pants pocket". Both the Lousiana DA and the Justice Department declined to prosecute the officer-involved concluding his actions were "reasonable and justifiable". In the case of Philandro Castile, left out is the fact he was high and refused to comply with officers commands not to pull out the gun he was carrying. Presenting this material in such a clearly biased manner does damage to the reputation of educators and to the children who trust them to provide a curriculum that is fair and accurate.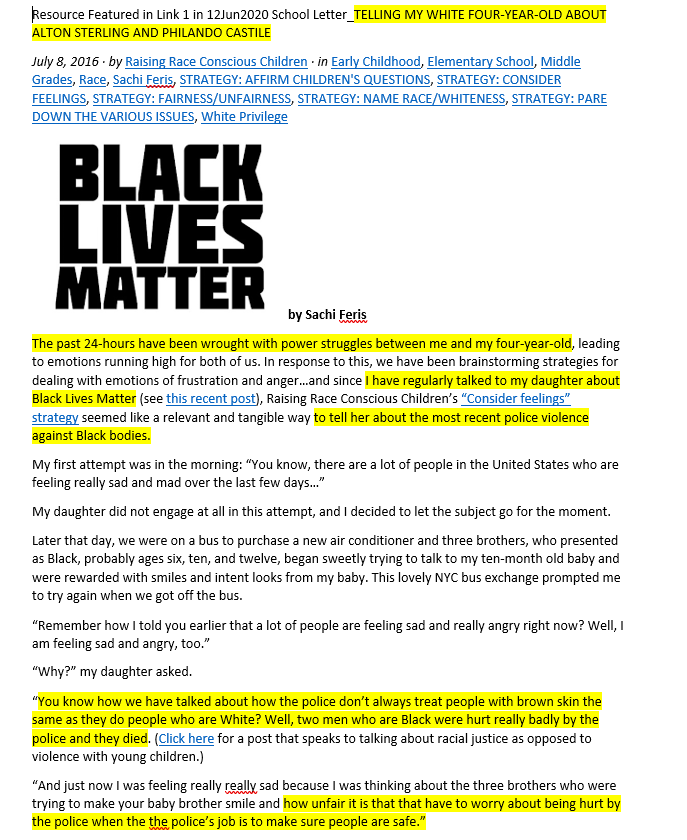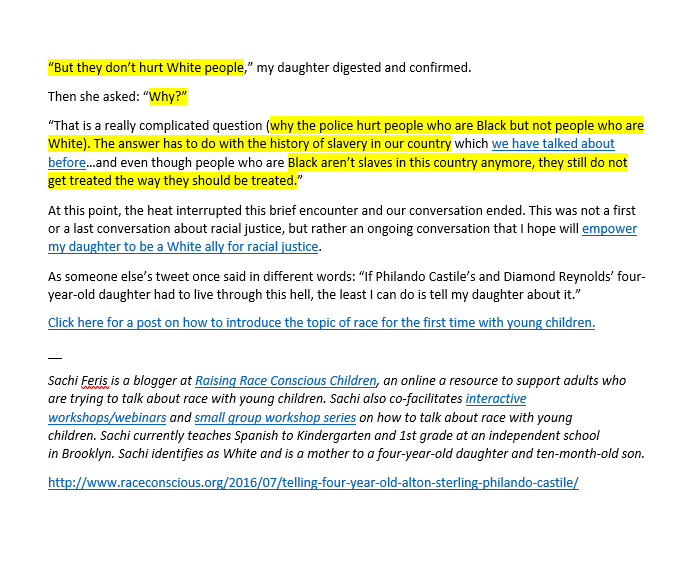 ---
Smithtown Teacher Mark Jackett's Anti-Police Tweets
In a series of bizarre rants, Smithtown teacher and Equity Team member Mark Jackett took to Twitter to publically call for the removal of police from schools. He even went so far as to disparage the heroes of 9/11 saying it created "Unhealthy" worship of police and military veterans. For Mr. Jackett to publicly state such despicable comments begs the question of what he teaches in the class and preaches in the "social justice" club he runs in Smithtown schools.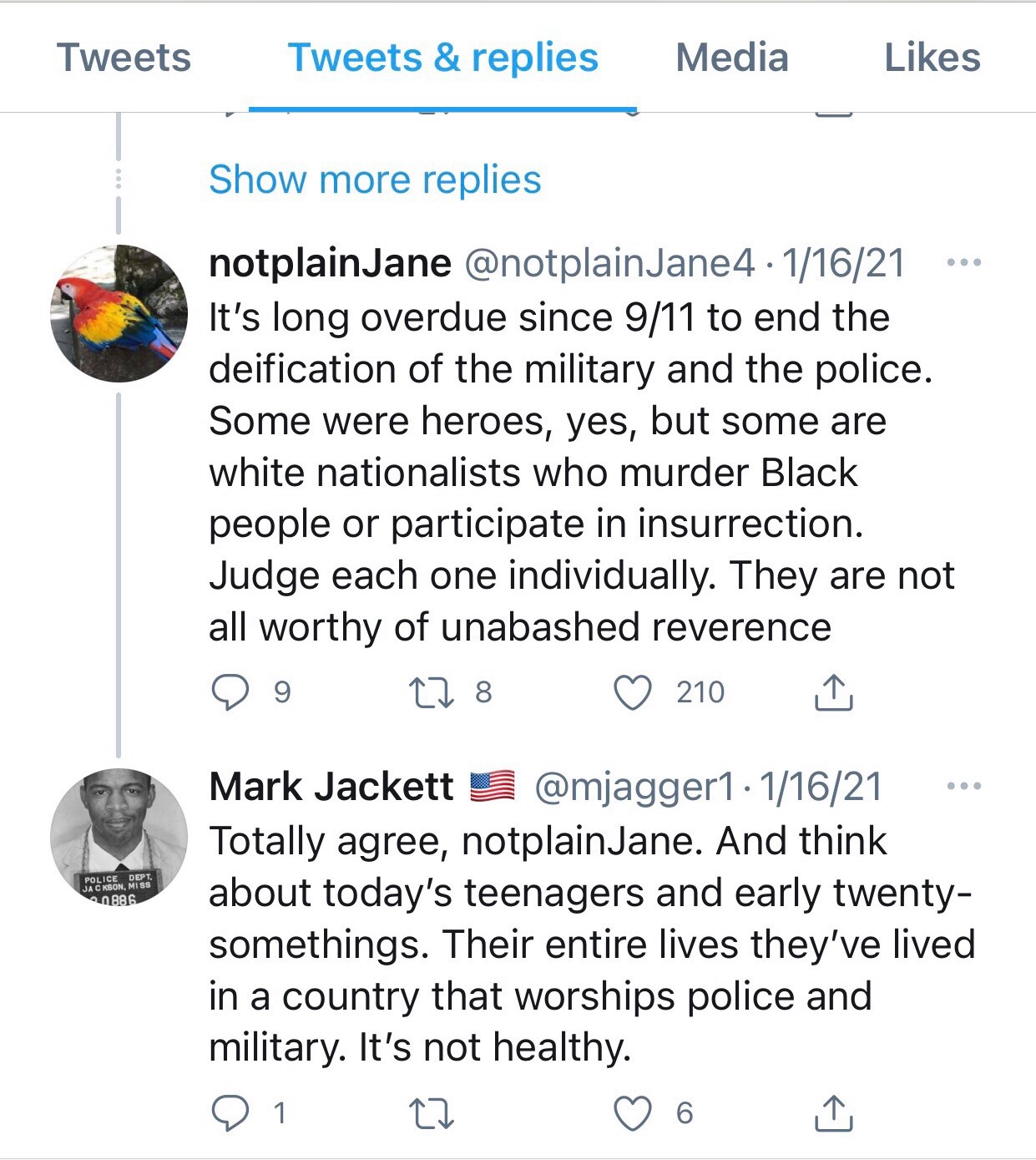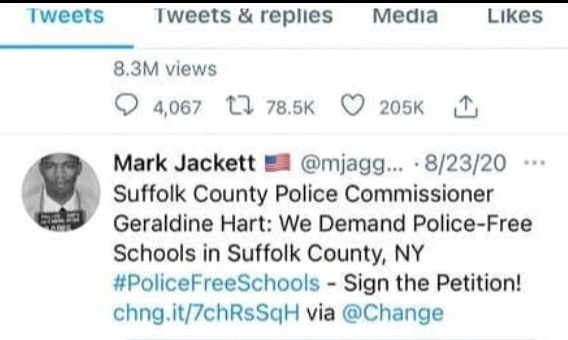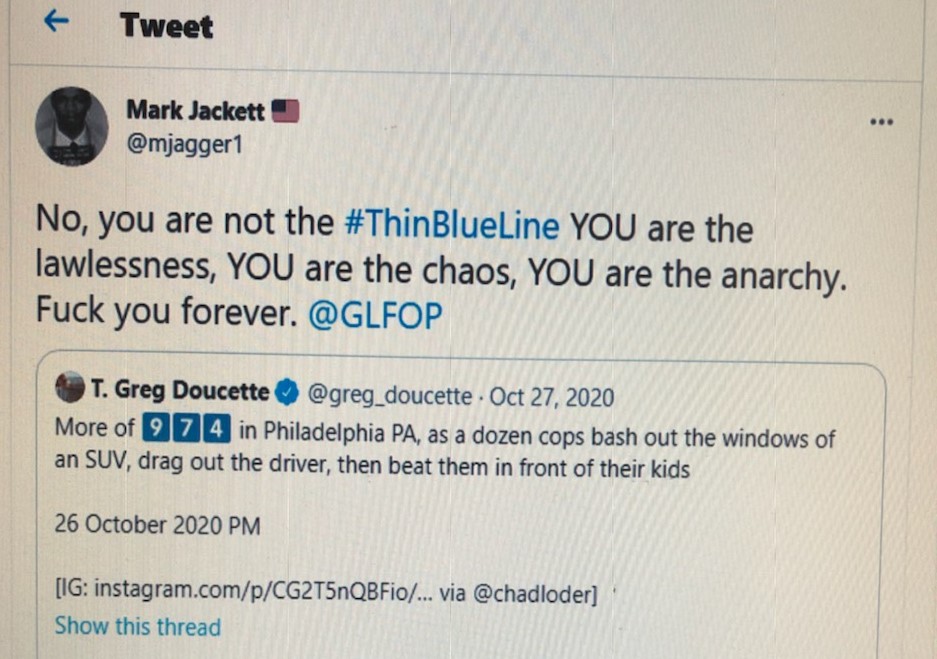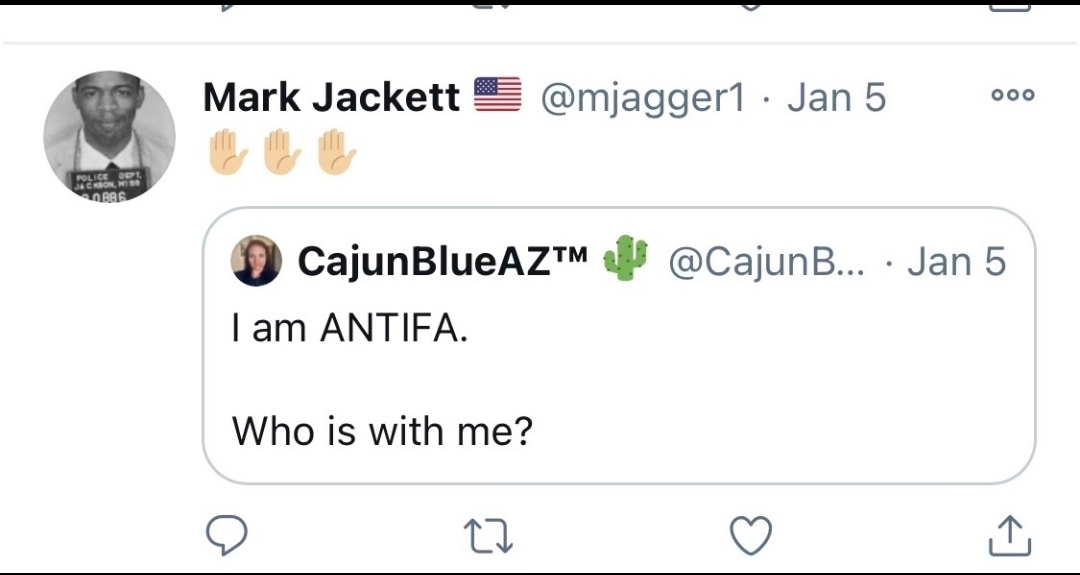 ---
NYS Regents Chancellor Lester W. Young Anti-Police Call to Action
The anti-police bias in our schools starts at the top. In his "Call to Action," NYS Regents Chancellor Lester W. Young Jr. makes bigoted and ignorant comments regarding police. They paint police officers with broad strokes and perpetuate harmful stereotypes against the men and women of Law Enforcement. Ultimately, this type of bias coming from an authority figure results in kids distrusting police and will do lasting harm to our youth. Children of Police Officers especially, should not be subject to systemic harassment and vilification of their parents from the very people entrusted to educate them. See his comments below or read the entire pamphlet to see how he plans to activate children as young as the 5th grade for "Social Justice".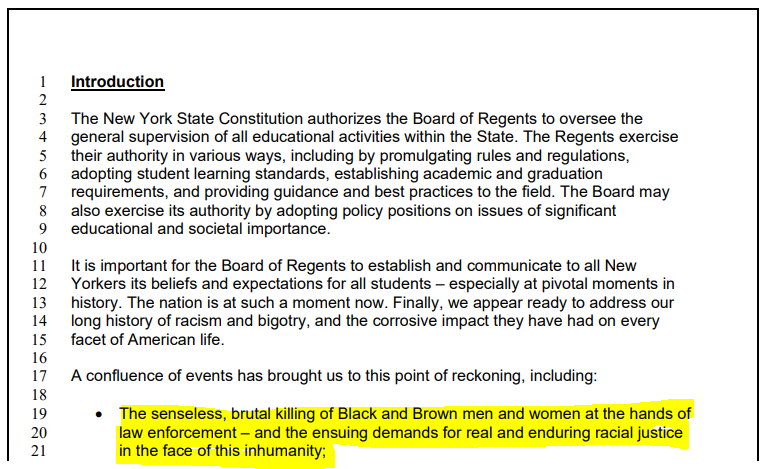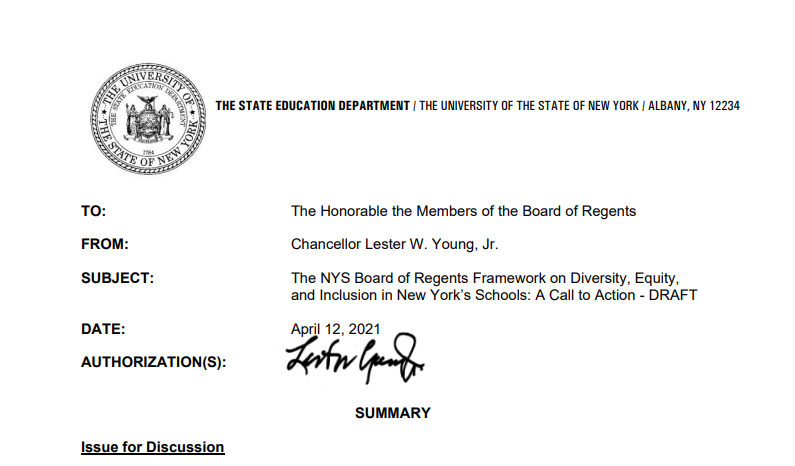 ---
Brentwood School Board Sends Out Anti-Police Letter
The following letter was sent out by the Brentwood School Board falsely and without evidence claiming there is systemic racism in our police force.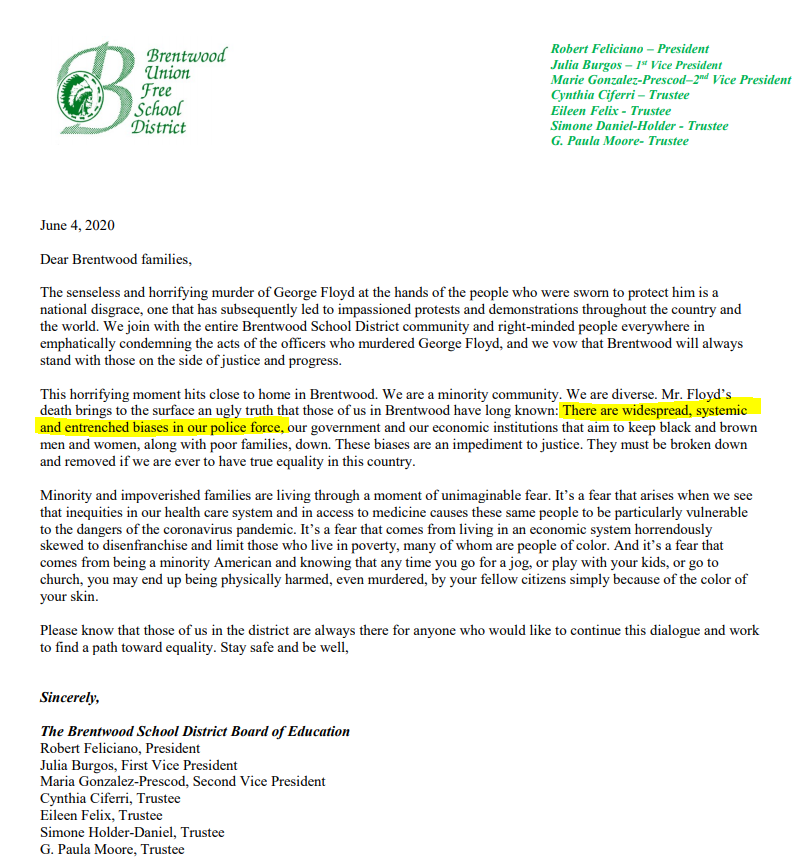 ---

Tool -Kit Uses Loaded Term "Police Violence"
"Police Violence" is a loaded term often used to describe police officers justifiably defending their lives and the lives of others. The term like other anti-police bias is being used in schools in the context of "social justice". This slanted and one-sided material has little basis in reality and only perpetuates false stereotypes which harm children. The below toolkit was given to teachers in Suffolk County to be used in the classroom. It's a prime example of the anti-police bias systemic in our educational system.
---
"There is a killer cop in every school where white children learn." Click the link below to hear the disturbing things being taught in prestigious NYC Private schools.